BMW Front Parking Sensors Fitted
4 July 2018 | Admin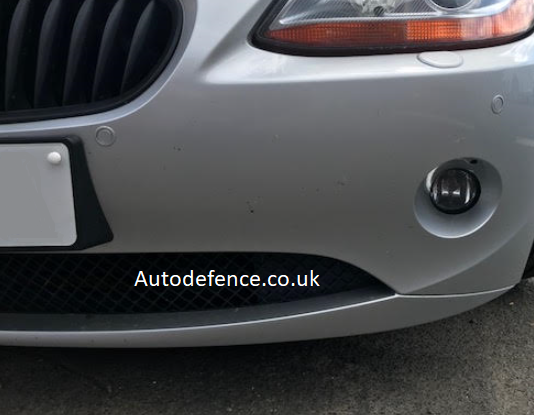 Many customers still have front parking sensors fitted even though they have factory fitted rear sensors. With certain vehicles they have a very long bonnet and this makes parking difficult and as such customers want piece of mind / confidence when parking. For any type of front parking sensors we always suggest Cobra, due to there advanced features allowing them to integrate perfectly with the vehicles bumper and they have the ability to be programed to a certain time delay. We normally suggest between 30-45 seconds is the perfect timer delay.
The timer delay means the sensors will become active when the ignition is turned on for the preset period ( 30-45 seconds ) if no objects are detected within that period the sensors will turn off / time out. If you wish to wake the kit up simply press the park switch ( we install this button on the vehicles dash ). Once it has been pressed the kit will wake up and become active instantly.
The detection range is around 1.2 meters meaning it will detect objects perfectly before you even get close to them. Cobra sensors are made and designed in Italy meaning the reliability is outstanding unlike some china made brands on the market. If you would like Front parking sensors installed why not take a look at our Front Parking Sensors.