Cobra Difference Between 0294 & 0194
6 March 2016 | Admin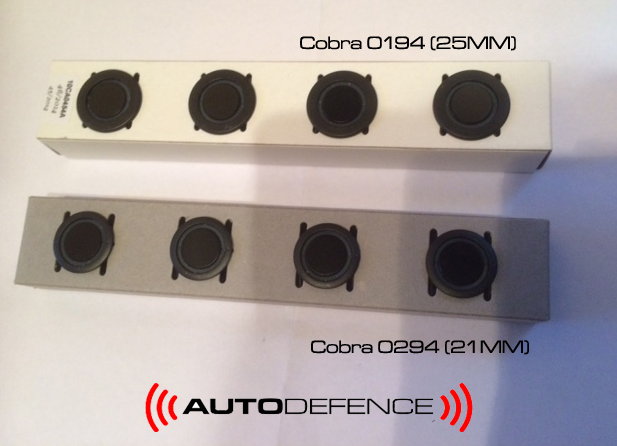 Cobra have produced some of the most reliable parking solutions in the aftermarket world in the UK. But with a range of over 3 different sensor heads it can be a little hard to understand the part numbers and which style of product you will end up with. The Cobra sensors have the best looks and style over all other brands on the market. Cobra offer 3 main lines of parking sensors such as.
Cobra 0194 - These are 25 mm in size and are commonly installed on VW, Toyota and Ford as standard. They are OE spec sensors for many manufactures. So you can be assured these sensors will last for years and offer superior performance. The sensors can be fully colour coded to match your vehicles paint perfectly. In 2016 some customers would class these sensors as ''out of date'' in terms of looks.
Cobra 0294 - These are the best sensors if you can't afford flush mount, they are 21mm in size but simply look awesome once installed due to there ultra flat profile, less than 1 mm! I think these are simply the best all rounder and don't look much different. Comes with the same technology as the 0194 so you are guaranteed excellent performance and reliability.
Cobra 0394 - Simply the best parking sensor kit ever produced in the world. A customer simply can't tell the difference between factory fit flush mounts and the Cobra 0394 system. They look outstanding once installed with there adjustable profile they can be lined up flush perfectly on your vehicles bumper. The sensors can be fully colour coded for complete factory looks.
No matter what system you choose to have fitted. We offer nationwide installation by Cobra approved engineers. Contact Us