Ford Transit Rep Locks Under Attack
4 October 2017 | Admin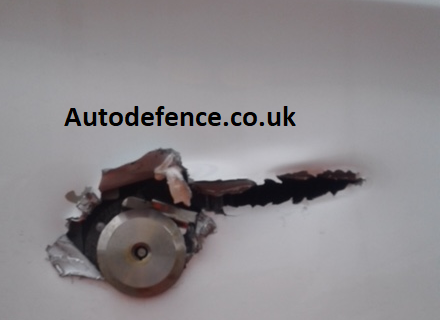 With Ford Transit and Transit Custom owners panicking about the security of there van. Some customers decide a upgraded door lock is good enough to enhance the security on there van. Others will get a full alarm installation carried out to protect there van to the extreme. Sadly we are seeing more and more vans attacked when they have no form of additional alarm installed. The original Ford security system turns off when the drivers door lock is turned to the left. Meaning a thief has to use a pair of mole grips to twist the lock in its casing or carry out a very harsh method of ripping the metal away from around the lock cylinder in order to attack the locking system.
Van locks are good at stopping the average thief but the more extreme thieves will cut holes or bend doors in half in order to gain access to your vehicle. This is costing tradesman mega amounts of money replacing stolen tools across the UK.
We would always suggest installing a Thatcham approved Alarm upgrade for the very best security. For the Ford Transit and Ford Transit Custom we would recommend the Ford Cobra ADR Alarm Package.