Mercedes Sprinter 2016 Alarm Upgrade
10 August 2017 | Admin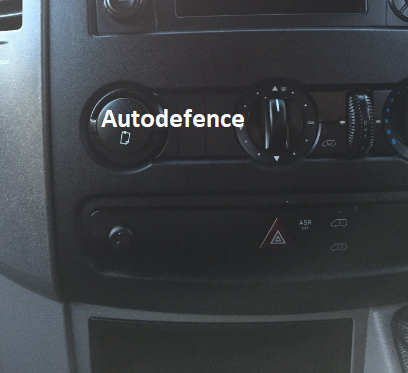 The Mercedes Sprinter is a very common works vehicle to be attacked in the UK, it has a couple of easy entry methods such as a thief using a Stanley blade to cut out the quarter light window to gain access to the ignition barrel and the OBD port. And they use another attack method on the rear doors by punching a whole right next to the door handle on the rear doors, this is normally done with a screw driver.
The main problem we have found with these vehicles is 90 % of these on the road don't come with an alarm system, meaning it takes seconds for a thief to gain entry to your vehicle without making any noise at all. We would recommend the Vodafone / Cobra alarm upgrade for this vehicle, it gives complete piece of mind by only arming and disarming from the original remote control, meaning it can't be bypassed by unlocking the drivers door with a key or lock pick.
The Vodafone / Cobra alarm works by protecting the interior ( Incase the quarter light is removed or the window glass is smashed.) and it protects all the doors around the whole vehicle meaning the fronts, sliding and rear barn doors are all protected. The siren located under the bonnet is a 118DB fully approved battery back up siren. If for example the vehicle was attacked and the wiring was cut to the siren the alarm will keep on sounding due to it's internal battery. And with the added piece of mind with the alarm being Thatcham Cat 1 approved once installed it gives complete piece of mind.
If you would like an alarm system installed you can book online, by clicking on the Cobra Can-Bus Alarm.