Should you Install Tracker Window Stickers
13 April 2016 | Admin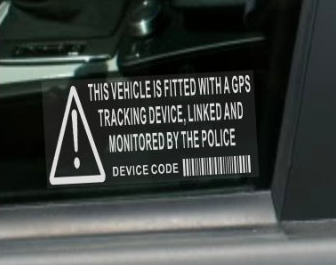 We have all seen them on auction sites and when we are out and about. Some customers think its wise to put a sticker in the vehicles windows stating they have a vehicle tracking system installed. First of all this is the worst thing to do in terms of security. We will explain why, when you have a stolen vehicle recovery tracking device installed it is fitted in a manor that a car thief wouldn't even know the car or van has one installed. The problem is now if a thief attacks your vehicle in the event of stealing it they could rip out every panel and trim within the interior. This is not uncommon in vehicles that are easy to strip such as the Land Rover defenders that are stripped in no time at all.
The idea of a tracking device is to recover the vehicle quickly and effectively and fitting these stickers can cause such a high amount of damage to the vehicle. It could be enough for your insurance to write the vehicle off in some cases. Another key note which is very misleading is the linked and monitored by police. This isn't true all stolen vehicle recovery systems are all monitiored by there own tracking network. Once a vehicle has been stolen they then communicate to the local police force in your area to get the vehicle recovered.
We can provide Stolen Vehicle Recovery Tracking Systems fully fitted at your home or place of work in the UK.