Vodafone Tracker Free Iphone App
12 October 2016 | Admin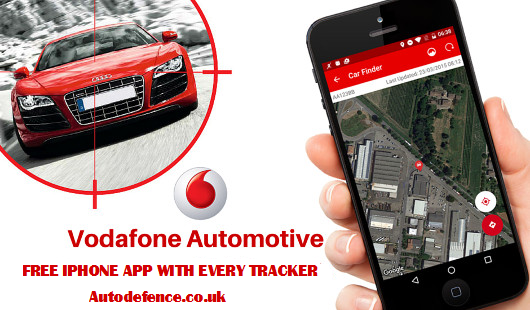 Today Vodafone Automotive have just released there iPhone app which is now avaliable to anyone buying a Vodafone tracking system, These are known as Protect & Connect, Protect & Connect 6, Protect & Connect 5.
Vodafone is a little late to the show with there iPhone app but once you take a look you will be impressed. And I personally think it is the best tracking app for a smart phone to date. Offering you a massive range of features such as driving behaviour, trip reports, geo fence alerts, and speed alerts makes it so advanced over the other systems on the market.
How about you go christmas shopping and the car park is so full you have to park ages away from the shopping center. when you get into the car park another 100 vehicles look the same as yours. No problem, open your connected car app on your iPhone and click find my car. It will give you a GPS walking route back to your vehicle.
As you may know Auto Defence is the no1 security specialist in the UK offering you the latest products before anyone else in the UK. Get your vehicle booked in for the latest Vodafone ( Cobra ) Tracking system today ( Contact Us )