AutoWatch Ghost Service Mode
11 January 2017 | Admin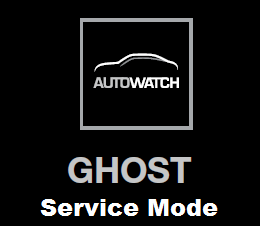 Many customers ask how to activate service mode? or what does service mode do?
Service mode is simple. It's only used when you book your car in for a service or other work and you don't want to let them know the pin code or you simply don't want them to know the vehicle has an Auto Watch Ghost installed.
How to put your Autowatch Ghost into service mode...
To enter service / valet mode simply enter your PIN code as normal. Once the indication signal flashes twice press the service button 5 times. The indication signal will flash 5 times to confirm that your Autowatch Ghost is now in service / valet mode.
You can manually exit service / valet mode simply enter your PIN code at any time while the ignition is switched on.
Service / valet mode Your Autowatch Ghost has a service / valet mode whereby the unit will not require the PIN code to be entered. This is used when the vehicle is being serviced or valet parked.
Note: This mode is not meant as a permanent override and will automatically exit when the vehicle exceeds a speed of 30 mph for a continuous period of 3 minutes. After this the Ghost will need a PIN code to disarm on the next start attempt.